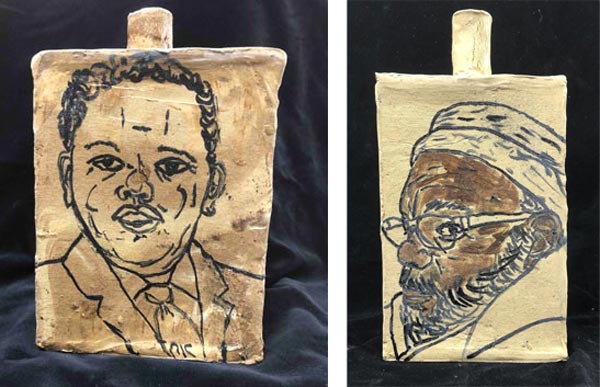 (TRENTON, NJ) — The New Jersey State Museum (NJSM) presents the 2022 New Jersey Arts Annual: Reemergence. New Jersey is home to a diverse and robust artistic community; the New Jersey Arts Annual exhibition highlights the work of visual artists and craftspeople from around the state. The New Jersey Arts Annual: Reemergence exhibition is on view from June 25, 2022 through April 30, 2023.
This year's exhibition theme is "Reemergence." Artists, like most New Jerseyans, are taking steps to reemerge into an altered landscape. The ongoing COVID-19 pandemic, political and ideological polarization, and a collective reckoning with systemic racism remain critical to achieving the country's promise.
"It is a privilege to present the work of these New Jersey artists as we all reckon with the events of the last few years, and consider how we move forward in the ongoing pandemic," says Sarah Vogelman, NJSM Assistant Curator of Fine Art. "The 95 selected artists, working across disciplines and media, have each responded to the ruptures and challenges of life in the pandemic in their own ways. In much of the work, themes of anxiety, isolation, surrealism, and dis/connection come through, as do impulses to contemplate and commune with immediate surroundings, be it an interior scene, still-life, or landscape. We hope the exhibition serves as a place for the public to engage and reflect as we each envision reemergence."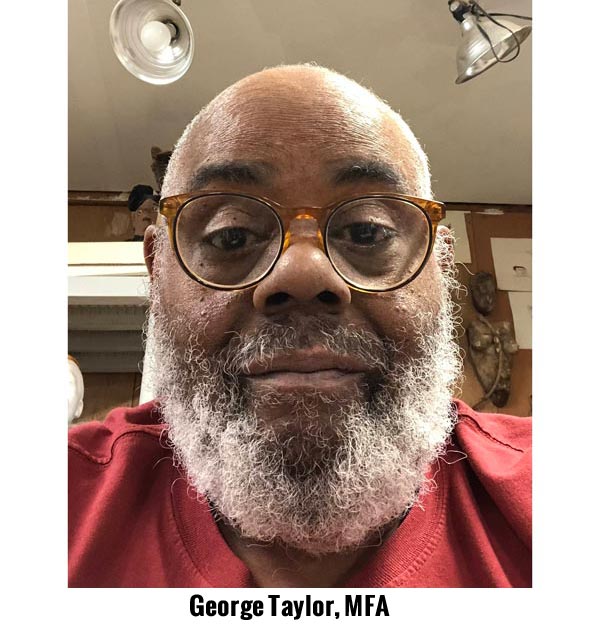 One of the local artists to be featured at the New Jersey State Museum will be George Taylor, MFA, ceramic artist of Milltown, NJ. 
"Self-representation by a black male artist is, in itself, a political act. It is even more heightened during an epidemic of prejudice, racism, sexism, political unrest, and hatred, all intertwined with a deadly pandemic and now the possibility of worldwide war," states Taylor, who found himself painting his image throughout the pandemic, not as a plan, but as an accommodation. 
Several stoneware vessels (pictured) by Taylor will be on exhibit from June 25 through April 2023. They are entitled Self Portrait With Hat, The Artist as a Young Man, and Two Poets.  
"These current vessels primarily display representational images of the human face, my own and others," explains Taylor. "They show little resemblance to the sake and perfume bottles that were at their origin. Grouped together they feel like a cityscape complete with graffiti on the sides of the structures. But in pairs they seem to be in silent dialogue. Either way, they speak."
George Taylor has spent much of his life managing issues of self-identification in a world that would often seem to marginalize his existence, and therefore his art. He grew up in an African American family, one of few in his Jersey City, NJ, neighborhood at the time. The expectations were that he would go into law or the clergy, while Taylor remembers just wanting to draw men in army hats, religious icons, and peacock feathers. 
As an undergraduate art major at Rutgers University, many of Taylor's paintings were figurative, but had an otherworldly feel. These works, as Taylor describes them, were familiar, with rather disorienting and paranoid landscapes. In graduate school at Mason Gross School of the Arts, Taylor painted large scale canvases celebrating the human body. He also explored an affinity for ceramics and performance art, with the two disciplines often overlapping. In one memorable performance, he covered his body in clay and made images on gallery walls that appeared rough, provocative and primitive.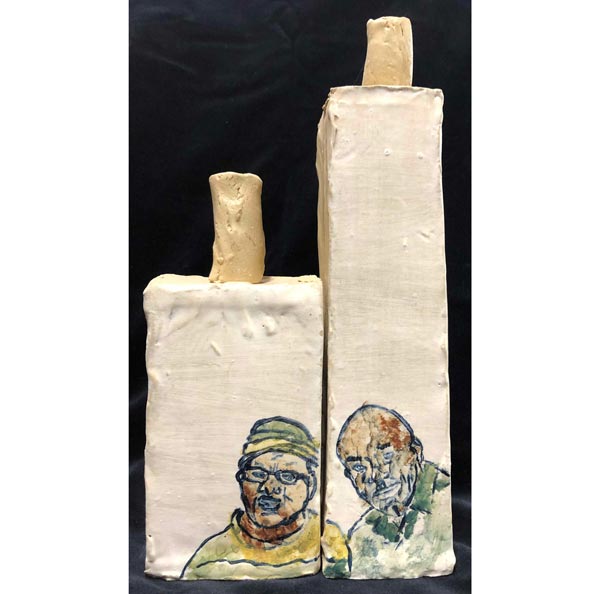 Since receiving his MFA Taylor has taught at numerous colleges and art schools in NJ. One of his current classes is Finding Your Inner Consciousness in Ceramics in which he utilizes his training as both counselor and Buddhist priest. Taylor's current work is three-dimensional, taking the form of towers/bottles on which images of himself and some of those important to him are sketched or painted. His work has been displayed in both solo and group shows, recently at the Ellarslie Open in Trenton, NJ. In addition to the Reemergence, Taylor's work will be featured at Gallery Aferro, Newark NJ, in its summer exhibit through August 25th: Tell Me About Yourself.
"I've always loved human representation, and I love working in clay. This recent work is a marriage of the two," states Taylor.
Each year, the New Jersey Arts Annual is presented by the State Arts Council, in partnership with major museums around the state, alternating between host institutions. These exhibitions are open to any artist currently living or working in New Jersey. This year's juried exhibition drew 1,999 submissions from 393 artists, representing every one of New Jersey's 21 counties. One hundred twenty-seven works by 95 artists were selected for inclusion in the exhibition.
"The Arts Annual is an exhibition focused solely on New Jersey artists, and the State Arts Council is proud to support the many great artists who call New Jersey home," said Danielle Bursk, the Director of Community Partnerships & Artist Services for the New Jersey State Council on the Arts. "Each year, the Arts Annual Exhibition is one way that we recognize and highlight new work, and provide the opportunity for audiences to see artworks from some of the most innovative and accomplished artists in the state. And our partners at the State Museum have done an amazing job curating a timely, inspiring, and powerful exhibition."
The New Jersey Arts Annual: Reemergence is a project of the New Jersey State Council on the Arts and the New Jersey State Museum. At the New Jersey State Museum, the exhibition is also supported by the New Jersey State Museum Foundation.
The New Jersey State Museum is located at 205 West State Street in Trenton and open Tuesday – Sunday, 9:00am to 4:45pm. 
 

Advertise with New Jersey Stage for $50-$100 per month, click here for info
---